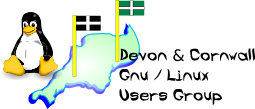 [ Date Index ] [ Thread Index ] [ <= Previous by date / thread ] [ Next by date / thread => ]
Re: [LUG] MSO, OOo and the executable metaphor
Subject: Re: [LUG] MSO, OOo and the executable metaphor
From: "Ben Goodger" <goodgerster@xxxxxxxxx>
Date: Fri, 14 Jul 2006 11:04:49 +0100
---
On 14/07/06, Kai Hendry <hendry@xxxxxxxxxxxxxxx> wrote:
On 2006-07-13T23:57+0100 Simon Waters wrote:
> > 1. It confines the app to the web browser. I know we have tabbed
> > browsing, but it can quite easily get confusing.
> One can deliver server based apps from outside the web browser, SUN do
> this with their Java technology, when the Java apps are downloaded and
> run locally. However I think it makes as much sense for Java apps to be
> downloaded and cached by the browser, this really doesn't get that
> confusing.

I think the browser interface is the least confusing interface around.
Back/Forward/Reload and the URI! You want your customer to be looking at
the same thing you are, give a URI. No Start->Control Windowing madness.

Ah, that's URL... a URI is not necessarily web-related.

The Web interface is being improved (WHATWG). I agree, it sucks right
now. Though for example with Wikipedia, many people are able to edit
"documents" using Wiki syntax.

I think that the accessibility implications of AJAX mean that such solutions shouldn't replace

> > I do think that HTML should be the native format for word-processed
> > documents
> Surely Open Document Format, now we have an ISO standard?! Although
> simpler formats will do for many other documents.

I've thought about this and consulted some smart people. HTML won't be
for word processed documents. Though I am no expert with ODF, I'm
confident it addresses text processing in that A4 format effectively.
> However in a business environment, I could see tools like Zimbra wiping

> out local mail clients and work flow tools. The ability to login, and
> have your whole email/document/contact/diary stuff all integrated, and
> available from any desktop is too big a draw, chuck in a few Zimlets and
> you can have 90%+ of what most businesses use IT for in a browser from
> anywhere. Better yet you can deploy it immediately by buying a hosted
> service, and the upgrades will be effectively automatic.

I've been trialling Google's company hosted email. Calendar, chat,
email, search, mailing lists. Ah, this is the future! Though Google
could make is easier to export *everything*. They do utilise the Ical
standard and ways to access mail as a filestore, but it could be much
better.

https://www.google.com/hosted/

I'll still stick with my IMAP hosted server which I can change to
another hoster fairly easily. It's a *competitive* market here, but it
could do with a decent (Web) interfaces for people not unix savvy.

Yes of course there are "trust issues". Though there are "trust issues"
with all technology and it needs to be clearly tackled and not
unreasonably discredited as being "amateur".

My idea of amateur is MS Exchange and Outlook combo. With no threading,
how can people keep track of discussions? That's my theory why Web
forums *shiver* are so popular. ;)

Indeed.
However, Tbird's threading smells. GMail's conversation view is the only solution I've found which makes this sort of thing bearable, and it even works on mailing lists.



--
Ben Goodger
#391382
---------------------

Mi admiras religiajn; ili estas fine ebliĝinta solvi la maljunegan demandon "kiel oni povas vivi sencerbe?".
-- 
The Mailing List for the Devon & Cornwall LUG
http://mailman.dclug.org.uk/listinfo/list
FAQ: http://www.dcglug.org.uk/linux_adm/list-faq.html

---