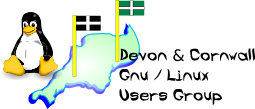 [ Date Index ] [ Thread Index ] [ <= Previous by date / thread ] [ Next by date / thread => ]
Re: [LUG] Laptop problem
Subject: Re: [LUG] Laptop problem
From: Neil <barnaby@xxxxxxxxxxxx>
Date: Tue, 5 Dec 2017 19:57:16 +0000
Content-language: en-GB
Delivered-to: dclug@xxxxxxxxxxxxxxxxxxxxx
Dkim-signature: v=1; a=rsa-sha256; q=dns/txt; c=relaxed/relaxed; d=dclug.org.uk; s=1507453562; h=Sender:Content-Type:Content-Transfer-Encoding:Reply-To:List-Subscribe:List-Help:List-Post:List-Unsubscribe:List-Id:Subject:In-Reply-To:MIME-Version:Date:Message-ID:From:References:To; bh=iWoaB7pseG9hhsCoYbhYhBY4bBBv1lATrbpR+QF8c64=; b=XJNwVZNmeNM0NZm5teogph2H8gQdU3a29CXZgQyrG0LT94A2Gbm+UdjJb9tHrtwn3IbXJOxjiNJhr9YTKxb8U/PKan4vGJBn9r0Q+hVNP9jWJ3SJzUBCF0rLqp9WtV8+yg4knRykIYTuxYFQsDmyBu67sE7jzCTalDqQ6I1/oOg=;
---

On 05/12/17 19:27, Neil wrote:

I will check the laptop downstairs (the one causing problems) and the mini laptop I also use and see what ifconfig produces there. Results to follow,



Neil


I am now on the mini laptop downstairs. Ifconfig does not mention eth0, but there is an entry for em1 which mentions ethernet.I will check upstairs again.


Neil

--
The Mailing List for the Devon & Cornwall LUG
https://mailman.dclug.org.uk/listinfo/list
FAQ: http://www.dcglug.org.uk/listfaq

---