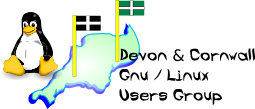 [ Date Index ] [ Thread Index ] [ <= Previous by date / thread ] [ Next by date / thread => ]
Re: [LUG] Why don't they learn
---

Gordon Henderson wrote:


On Wed, 6 Jan 2010, T Brownen wrote:



5, Yes Gordon you did wake a lot of people up. What is more you left a lot of litter.



Actually, I strongly deny that and challenge you to prove it.



I've been doing this with my wife for the past 9 years now. We let off a few fireworks just after midnight and always remove all litter. I proposed to her on that beach 8 years ago too. This year, we had some small firework "cakes" which were all properly disposed of, as well as a handfull of sparklers, again properly disposed off.





We often have a BBQ too, but didn't this year - again, it's properly disposed off - there are plenty of bins round the breakwater area.





As a diver and having participated in PADIs project aware, I know only too well what rubbish on a beach does to both the sight of it as well as what gets left underwater.





As for waking people up - well that I don't regret, nor will I apologise for - if indeed I did wake anyone up. Brixham is a bit of a prty town each new years eve - the streets are full of people in fancy dress - I imagine it's quite good fun if you're a local, and I wasn't the only one letting fireworks off. Quite a lot seemed to be going off up the hill behind the breakwater beach and towards berry head.





1000's over the rest of Torbay - it was very good this year, despite the wind!




There were a fair few people letting off fireworks in my area, the wife and I were up anyway but our youngest slept right through it all (funnily enough she can sleep through the next door neighbours having a party until the early hours, but can be woken up by me getting up in the morning).
The one thing I did find out last night is that software and night caps do not mix.



:-)




Now please let us keep this as a Linux user group, not a Promotion for ones own business, if you can contribute with knowledge great other wise be like Dad keep Mum.





But the real point is that just because we run Unix/Linux doesn't automatically make us immune from viruses. The very first computer virus/worm was written on a Unix system (google Morris Worm) and that was in 1988.





Promote Linux as an open platform, one where the user has a choice and is not locked into one software package, vendor.





I use Linux to help me make a living, but I could equally use FreeBSD, Solaris or Apple - And in 1995 I did have a choice to make between FreeBSD and Linux - I was using the former in a work environment and Linux at home, and I did seriously consider moving to FreeBSD for my home stuff just to keep things the same. Am I glad I stuck with Linux? I'm not sure to be honest - all I want is a stable kernel and a C compiler... The rest is out there....

Isn't *BSD known for it's security and stableness?


I have briefly looked at FreeBSD and Solaris but I always tend to find I go back to Linux which is more familiar to me. Maybe one day I will put together an older PC to run FreeBSD and Solaris on.


Rob


--
The Mailing List for the Devon & Cornwall LUG
http://mailman.dclug.org.uk/listinfo/list
FAQ: http://www.dcglug.org.uk/linux_adm/list-faq.html


---