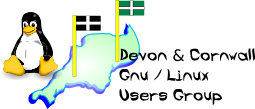 [ Date Index ] [ Thread Index ] [ <= Previous by date / thread ] [ Next by date / thread => ]
DCGLUG was Re: [LUG] Offer of venue for DCGLUG meeting related toEducational software
Subject: DCGLUG was Re: [LUG] Offer of venue for DCGLUG meeting related toEducational software
From: Simon Waters <simon@xxxxxxxxxxxxxxxxxxxx>
Date: Sun, 05 Dec 2004 10:20:24 +0000
---
-----BEGIN PGP SIGNED MESSAGE-----
Hash: SHA1
Terence McCarthy wrote:
| On Sat, 04 Dec 2004 22:48:48 +0000 Simon Waters
| <simon@xxxxxxxxxxxxxxxxxxxx> wrote:
|
|> I think one person disagreed, and then went away.
|
| I rather think that there was more than one, and I haven't gone
| away- the thread must be in the archives....
It is, as is the second thread started by Paul saying there was a
consensus on GLUG, where you replied. Sorry if you got overlooked, I
shall pay penance in real ale.
However there does appear to be a general consensus in favour of
renaming. Although I didn't quite decipher Grant's position from the
posts I read.
-----BEGIN PGP SIGNATURE-----
Comment: Using GnuPG with Debian - http://enigmail.mozdev.org
iD8DBQFBsuDnGFXfHI9FVgYRAlo1AJ9+DN42Y74uOjc3YVTi0lTEzZOYQgCdHJv0
IK0WRJ2BPW7VGWYQCM0M3bY=
=bsgy
-----END PGP SIGNATURE-----
--
The Mailing List for the Devon & Cornwall LUG
Mail majordomo@xxxxxxxxxxxx with "unsubscribe list" in the
message body to unsubscribe.
---