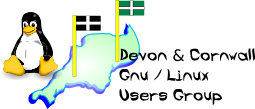 [ Date Index ] [ Thread Index ] [ <= Previous by date / thread ] [ Next by date / thread => ]
Re: [LUG] Offer of venue for DCGLUG meeting related to Educationalsoftware
Subject: Re: [LUG] Offer of venue for DCGLUG meeting related to Educationalsoftware
From: Simon Waters <simon@xxxxxxxxxxxxxxxxxxxx>
Date: Sat, 04 Dec 2004 22:48:48 +0000
---
-----BEGIN PGP SIGNED MESSAGE-----
Hash: SHA1
David Johnson wrote:
|
| Am I right in thinking that we agreed (by agreed I mean that
nobody disagreed)
| on renaming the LUG to a GLUG (or similar)? If so, this solves the
naming
| issue.
I think one person disagreed, and then went away.
At least one person thought we had more important things to do, but
then what gets done is often down to how motivated the person who
wants it done is ;)
-----BEGIN PGP SIGNATURE-----
Comment: Using GnuPG with Debian - http://enigmail.mozdev.org
iD8DBQFBsj7QGFXfHI9FVgYRAq+5AKDFsxHYGM7K02huHNLSiLqVYyIatACeKeeq
MaOryr6GxRcayANH9u9mXJc=
=wI0R
-----END PGP SIGNATURE-----
--
The Mailing List for the Devon & Cornwall LUG
Mail majordomo@xxxxxxxxxxxx with "unsubscribe list" in the
message body to unsubscribe.
---