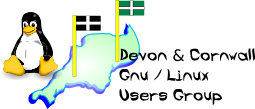 [ Date Index ] [ Thread Index ] [ <= Previous by date / thread ] [ Next by date / thread => ]
[LUG] Offer of venue for DCGLUG meeting related to Educational software
Subject: [LUG] Offer of venue for DCGLUG meeting related to Educational software
From: Simon Waters <simon@xxxxxxxxxxxxxxxxxxxx>
Date: Sat, 04 Dec 2004 13:26:41 +0000
---
-----BEGIN PGP SIGNED MESSAGE-----
Hash: SHA1
Hi All,
have been discussing a possible DCGLUG meet for "around Easter time"
2005 next year on Educational software.
We have an offer of a venue at a Torbay area school, when I get full
details I will update the Events list, and post the URL here.
I know a number of people have specific interests in Educational
software.  If anyone is keen to give a talk, or keen to hear talks
on particular topics, please let me know on or offlist, and I'll put
~ the event together.
As per the previous Educational software meeting at St Peters we
will promote the event to Devon teachers, school IT staff, and
(possibly primarily) senior school decision makers, so talks will
have to be aimed at the interested but not especially knowledgable
teacher.
~ More details as available,
Simon

-----BEGIN PGP SIGNATURE-----
Comment: Using GnuPG with Debian - http://enigmail.mozdev.org
iD8DBQFBsbsRGFXfHI9FVgYRAq6SAKCo3obp8Z2jFthRdE2jp6ykxCrSaQCghfnW
xao93BQoiXMsAiVZJ2okKec=
=kVi1
-----END PGP SIGNATURE-----
--
The Mailing List for the Devon & Cornwall LUG
Mail majordomo@xxxxxxxxxxxx with "unsubscribe list" in the
message body to unsubscribe.
---