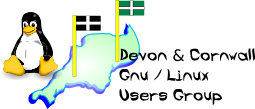 Devon & Cornwall Linux Users' Group
[ Date Index ][ Thread Index ]
[ <= Previous by date / thread ] [ Next by date / thread => ]
Re: [LUG] Who's best for Broadband in Plymouth?
---
---
On Sat, 27 Nov 2004 09:55:58 +0000
Rob Beard <rob@xxxxxxxxxxxxx> wrote:


Terence McCarthy wrote:



I'm in East Ogwell, and Paul's in Paignton. 

Local local meet?




I was just wondering if anyone from round this area met up like in a pub 
for regulat chats etc.  



The Locomotive, the Dartmouth, the Wolborough all sell real ale (good prices too).

I'm up for it, Rob. Day, time, location?

Terence

--
The Mailing List for the Devon & Cornwall LUG
Mail majordomo@xxxxxxxxxxxx with "unsubscribe list" in the
message body to unsubscribe.



---
Lynx friendly