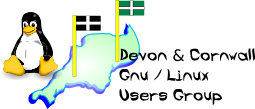 Devon & Cornwall Linux Users' Group
[ Date Index ][ Thread Index ]
[ <= Previous by date / thread ] [ Next by date / thread => ]
[LUG] Who's best for Broadband in Plymouth?
---
---
Does anyone know a good broadband provider that can provide unlimited access and self install at a good rate?
Much difference between cable and ADSL?
How does Telewest compare? Are they ADSL or something else?
Has to be self install, I have to connect a modem/router so that the broadband can be shared. USB no good since I can't leave a PC on.
Thanks
Andrew

--
The Mailing List for the Devon & Cornwall LUG
Mail majordomo@xxxxxxxxxxxx with "unsubscribe list" in the
message body to unsubscribe.
---
Lynx friendly