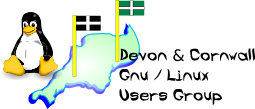 [ Date Index ] [ Thread Index ] [ <= Previous by date / thread ] [ Next by date / thread => ]
Re: [LUG] upgrades, part two
Subject: Re: [LUG] upgrades, part two
From: Neil via list <list@xxxxxxxxxxxxx>
Date: Thu, 9 Feb 2017 08:40:39 +0000
Delivered-to: dclug@xxxxxxxxxxxxxxxxxxxxx
Dkim-signature: v=1; a=rsa-sha256; q=dns/txt; c=relaxed/relaxed; d=dclug.org.uk; s=1475831162; h=Sender:Content-Type:Content-Transfer-Encoding:Reply-To:From:List-Subscribe:List-Help:List-Post:List-Unsubscribe:List-Id:Subject:In-Reply-To:MIME-Version:Date:Message-ID:To:References; bh=cZKnQl3PdCxdcGOlcnid38UnpL4F+afBgR1zI7O9zzM=; b=nX35V6IVj1XRk6lwcn9p9eER9YLO7JvbKYs7y7KwYrKlOUr6wduj+ACnXw16bcdNzGRRuLKmdALPxSPa5lXJKO4KkYLCXDl1YuilSXkT+DvTV7sL2xtuHkyJXAJqyM16oSDXqQNJ8HhNYvMVRq0eI1GBG6uVBvXh/wGYh9kpF9s=;
---

On 08/02/17 17:41, mr meowski wrote:



This is an easier question: xfce4-terminal 0.8.4 will be part of
xfce4.14 which isn't yet available:

https://wiki.xfce.org/#release_information
https://wiki.xfce.org/releng/4.14/roadmap

The unstable build 4.13 is available from PPAs or you can build the
developer source tree if you want (you don't) to update but 4.14 is a
while out yet, so I really wouldn't bother. You're fully up to date as is.

What is less clear is where are these error messages coming from? What
is the context - is this from an apt command in a terminal or synaptic
output? It's bit weird that it's alerting you to the presence of
*upstream* source packages at all...

Cheers


Since I use xfce as my desktop I subscribe to the xfce user list. Regularly there are messages about some programs or packages which now have a new version available, and they always take the form as I showed in my email. I have never understood how to use them. That is really what I was asking. it isn't an error message, it is an update message.


Neil

--
The Mailing List for the Devon & Cornwall LUG
https://mailman.dclug.org.uk/listinfo/list
FAQ: http://www.dcglug.org.uk/listfaq

---