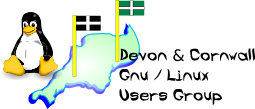 [ Date Index ] [ Thread Index ] [ <= Previous by date / thread ] [ Next by date / thread => ]
[LUG] Arduino or Raspberry Pi Project
Subject: [LUG] Arduino or Raspberry Pi Project
From: George Reynolds <george.reynolds@xxxxxxxxx>
Date: Thu, 21 Nov 2013 00:18:56 +0000
Delivered-to: dclug@xxxxxxxxxxxxxxxxxxxxx
Dkim-signature: v=1; a=rsa-sha256; c=relaxed/relaxed; d=gmail.com; s=20120113; h=mime-version:in-reply-to:references:date:message-id:subject:from:to :content-type; bh=SAwvKLjMy9eMVnN7PiRmutJUAImUJGVy6F/FTQVRXJc=; b=CTZi+Um4GCE5LBwrJKYGwOkUbXbLHhXNxBJz6LJhNGMmIL3lO1nJtbEQxemCwN1oAR x+5FZ28l2el6bVRB6raxz4eRi0B5+sF1lXnLwdkY2qtzQVebki3+XGR4vIFgOpaS8+3i l30g6+dpofUFZwsrZ4Bipja/pOzypTMd3SRBK6KAjEVAAlp11aYnOX4fUpNyBNVK3w16 QzzSEgT5lB5AKoYagroyVyJ8CaD6btd8PBRNdajZhqiFDM/1Qi4zeFB2cfhOsi1MD6uA 5ifGXg2PrZosqEc0ZCZqLdrRygDmebE6xIFTyHUSQmvLiv1KThmjKl9LMokzgLZjA6QM eESA==
---
Hi
Being a little bit of a cool person (!)
I really want to try the whole "make music from floppy drives" and wondered if anybody wanted to help me with my little project. 
I am hopefully getting an arduino for Christmas  but I need something scary called a breadboard and a soldering iron to do the rest. I also need an ATX PSU and 8 floppy drives which I can probably get myself. I can possibly get some but not all of the cables as well!
http://m.instructables.com/id/How-to-Make-Musical-Floppy-Drives/
http://runawaybrainz.blogspot.co.uk/2013/02/arduino-moppyduino-musical-floppy.html?m=1#more
Anybody handy with a soldering Iron? ?
Thanks

-- 
The Mailing List for the Devon & Cornwall LUG
http://mailman.dclug.org.uk/listinfo/list
FAQ: http://www.dcglug.org.uk/listfaq

---