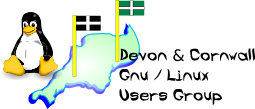 [ Date Index ] [ Thread Index ] [ <= Previous by date / thread ] [ Next by date / thread => ]
Re: [LUG] Networked Storage
---

On 03/05/2011 21:21, Gibbs wrote:


On Tue, 2011-05-03 at 20:47 +0100, Gordon Henderson wrote:



Hm. something else I've just found on Aria:

    
http://www.aria.co.uk/Products/Networking/Network+Attached+Storage+%28NAS%29/Synology+DiskStation+DS211j+2-Bay+NAS+Enclosure?productId=42861

That's cheaper then building it yourself, and comes with the software.
Just add 2 drives and off you go...

Another option is one of these, http://h41112.www4.hp.com/promo/proliantmicroserver/index.html?jumpid=ex_r135_uk/en/smb/tsg/go_proliantmicroserver
Looks like you have just missed the promotion :-( however they were running a similar offer before Christmas so might extend it or run another soon.
I bought one at Christmas and added 3 1.5TB disks in md RAID 10 and Fedora 14. Seems OK so far.


Cheers,

Pete


Looks like it even had it's own P2P software built-in too ...

Never used one though...

Gordon




Thanks for the help Gordon, much appreciated. Like you said building one
myself seems to turn out more expensive and I think I was a bit
ambitious in terms of the size and price I was expecting. That "Synology
DiskStation" looks great and is about the right budget but my only
hesitation right now is the OS installed.

Ideally I would like to be able to run a different OS if possible (i.e.
Linux) and these sorts of devices seem to be vary brief when it comes to
listing the OS installed. The reason for that is I would need to use the
likes of SSH and rsync etc etc.

Will keep looking around. Cheers again.

Gibbs






--
The Mailing List for the Devon & Cornwall LUG
http://mailman.dclug.org.uk/listinfo/list
FAQ: http://www.dcglug.org.uk/listfaq


---