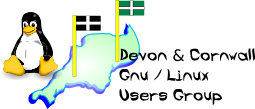 [ Date Index ] [ Thread Index ] [ <= Previous by date / thread ] [ Next by date / thread => ]
Re: [LUG] Fwd: UK 'misled' on broadband speeds
---

On 28/07/10 16:55, Rhia Knowles wrote:


You could also consider a PVR box to record TV, saves having to use iPlayer
and 4oD and the quality would most probably be better too :-)




Not always.

Our Freeview PVR has twin tuner but when the signal is weak (usually
about sunset) and someone is watching another channel the recording is
completely unwatchable. Skips like a 5 yr old on a sunny day.

So we end up using the Iplayer even though we recorded the show. Thank
goodness its free.

Now I just have to convince Dad to watch things within the same month
so that if there is a problem, I can iplayer it....


I never had this problem with my old BT Vision box. The problem I did have was running out of hard drive space :-)
For a while I had a TV booster box attached to the TV aerial connection (granted this was a new aerial which was a digital high gain aerial [1] fitted on the roof). We were getting a pretty good signal as it was, I then tried it without the booster and it still worked fine. This was pointing to the Beacon Hill transmitter in Marldon.
When getting the aerial and satellite dish installed I did a bit of reading up, it suggested that it was a good idea to replace the cable and aerial every 10 years or so and to use decent quality cable. I'm not sure how much difference this made, but we can run a Freeview box, Freeview card and a TV with built in Freeview tuner from the one cable with just a cable splitter and it works fine. Even worked fine with the BT Vision box too.
I'd say if you are getting the poor performance as you suggest then maybe you could do with speaking to an aerial installer, they might be able to suggest ways to fix it.
My next PVR will be a MythTV box. I figured with a satellite card or two and a couple of Freeview sticks it should cover all the TV viewing needs for everyone in the house.


Rob

[1] http://www.ukfree.tv/fullstory.php?storyid=1107051054

--
The Mailing List for the Devon & Cornwall LUG
http://mailman.dclug.org.uk/listinfo/list
FAQ: http://www.dcglug.org.uk/listfaq


---