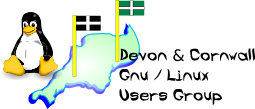 [ Date Index ] [ Thread Index ] [ <= Previous by date / thread ] [ Next by date / thread => ]
Re: [LUG] Connecting two points 500m apart
---

On Wed, 16 Jun 2010, Kai Hendry wrote:



On 16 June 2010 16:53, Gordon Henderson <gordon+dcglug@xxxxxxxxxx> wrote:



However, directional and high gain antennae is the way to go. Longest Wi-Fi
link we ran was 6.5 miles from a 12db omni to an 18bd grid antennae. That
was clear line of sight though, and those antennae were expensive a the
time. (We also ran a 17.5 mile 10Mb link but that was on posher kit with a
2' dish at either end)




I'm interested in antenna and learning what all this "12db",  "omni"
jargon means. :-)

db - decibel - a logarithmic (base 10) way of measuring "something". In this case it's the gain of the antennae (and I ought to have used dBi)
omni is the opposite on uni - basically it radiates in all directions. A grid parabolic is a parabola in a grid - you don't need a solid plate, just a mesh grid (of the correct spacing) they're lighter and subject to less wind loading.

Is it clear line of sight? If so, then a pair of good Wi-Fi access points
acting in bridge mode might just work. (And even if you do have line of
sight, lookup fresnel zone - it'll be a factor at that distance)




It's not quite line of sight (hill rise), but I was hoping to
experiment with a mast or something.

If you can get line of sight, it'll be infinitely better. Wi-Fi really doesn't bend and doesn't go through stuff very well at all. (Good job too, or microwave ovens wouldn't work!) In non line of sight applications it's probably relections you're picking up - outdoors there will be very few reflections unless in a built-up area.

I'd go back to the Wi-Fi access points in bridge mode. Trouble is, as I
found out recently, most are over 50 quid when bought without an adsl
router! And then, what do you do with one that has 2 antennae? Which one do
you pick to plug the directional antennae into? And then there's the cost of
the directional antennae to connect to it, and cabling - basically I think




Lets assume I have 2 dd-wrt flashed WRT54GLs to play with. I need to
connect them. What antennae do I need exactly? Hopefully two
directional antennae attached to each will allow good communication. I
don't want high power since I want to connect the sheevaplug to a car
battery. As I said I don't know too much about antennae, so be easy on
me.

One of the down-sides we found when building the wi-fi community networks was that the connectors and cables between the acces point and antennae introduced almost more losses than the antennae gain was worth. We're starting with a very weak signal and every connector and bit of co-ax just weakens it more. It's possible things have improved though. I'd start googling for companies that sell this kit - what we used was mostly smartBridges kit - and that used power over ethernet to take the Ethernet outdoors right into the Wi-Fi access point rather than run long co-ax cables. That kit was the best part of £200 each then... (trying to understand their website now - looks like they're lost the plot somewhat)
I do have some kit that might still work though. I'd need to have a rummage through the scrap boxes...
Back to your WRT56GLs ... Stick them in a tupperware box as high as possible with their supplied antennae and hope for the best.
We did something similar with early DLink boxes and it mostly worked. (Although the DLinks themselves were rubbish at the time)

p.s. incidentally I'm hoping to set a little weather station (only
have a USB thermometer) and a bluetooth scanning service on the A30.



Bluetooth scanning eh? Trying to be the new google then ;-)

Gordon
-- 
The Mailing List for the Devon & Cornwall LUG
http://mailman.dclug.org.uk/listinfo/list
FAQ: http://www.dcglug.org.uk/linux_adm/list-faq.html

---