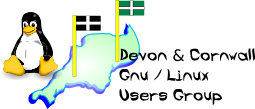 [ Date Index ] [ Thread Index ] [ <= Previous by date / thread ] [ Next by date / thread => ]
Re: [LUG] Great Plug for Linux
Subject: Re: [LUG] Great Plug for Linux
From: "Michael Mortimore" <nospamformike@xxxxxxxxxxxxxx>
Date: Thu, 15 Oct 2009 23:04:25 +0100
Dkim-signature: v=1; a=rsa-sha256; c=relaxed/relaxed; d=googlemail.com; s=gamma; h=domainkey-signature:received:received:content-type:to:subject :references:date:mime-version:content-transfer-encoding:from :message-id:in-reply-to:user-agent; bh=gFn8tJMNB1NGgafmyKu1ZRlV0nM6bzmf9NK/pL3q+a8=; b=g05Hig8PBQuvZp++teGogPDFgIyEJ8pwadq1KVOvchLPWwzsPBriWpUPkkv1V0vOhF T84NmuXG+DkS4A7TkGDGEQYqVyzmL4+f1kOkV//+moV5lsG4BcfQIyIXeBKI4vXNGz7b kwyOOhdYKvauQ4JSZTSB6+rQhInMg6FahOMYQ=
---
On Thu, 15 Oct 2009 22:43:25 +0100, Simon Waters <simon@xxxxxxxxxxxxxx> wrote:

Michael Mortimore wrote:




You could always write to them. It wouldn't surprise me if they've never
heard of iceweasel.




I have, but it is hard to impart clue to companies unless they are
paying you lots of money when they listen more.

Something I always found more amusing when I was a consultant.

I think that depends on what kind of consultant you are or maybe what sort of client you have.


--
The Mailing List for the Devon & Cornwall LUG
http://mailman.dclug.org.uk/listinfo/list
FAQ: http://www.dcglug.org.uk/linux_adm/list-faq.html




---