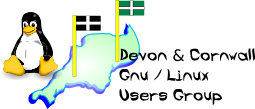 [ Date Index ] [ Thread Index ] [ <= Previous by date / thread ] [ Next by date / thread => ]
Re: [LUG] sme server for multiple domains
Subject: Re: [LUG] sme server for multiple domains
From: Adrian Midgley <amidgley2@xxxxxxxxxx>
Date: Sun, 30 Jan 2005 18:36:47 +0000
---
On Sat, 2005-01-29 at 11:03, Kelly Jones wrote:

Not really i am looking at a solution that can handle multiple domains
delivered via smtp or multi drop pop3 mailbox.  



fetchmail does the POP3 and IMAP part of that, doesn't it.
And postfix will accept by SMTP mail for any odmain it is told to
accept, as far as I understand it.

I also intend to move something similar from Windows.



Basically i want an open source solution to replace FT gate.



-- 
Adrian Midgley            FLOSS  regularly

--
The Mailing List for the Devon & Cornwall LUG
Mail majordomo@xxxxxxxxxxxxx with "unsubscribe list" in the
message body to unsubscribe.



---