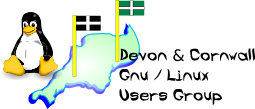 [ Date Index ] [ Thread Index ] [ <= Previous by date / thread ] [ Next by date / thread => ]
Re: [LUG] Microsoft in flying car FUD
Subject: Re: [LUG] Microsoft in flying car FUD
From: Grant Sewell <dclug@xxxxxxxxxxxxxxxxxx>
Date: Sun, 30 Jan 2005 16:17:03 +0000
---
On Sun, 30 Jan 2005 16:02:53 +0000
Neil Williams wrote:


Trust MS to make the bug so blindingly obvious that even a finance director 
would spot it! A difference of 4,000 miles on a journey of only 80 is a tad 
excessive! 
:-(



Like I said... scenic detours :D

Grant.
-- 
Artificial intelligence is no match for nuratal stidutipy.

--
The Mailing List for the Devon & Cornwall LUG
Mail majordomo@xxxxxxxxxxxxx with "unsubscribe list" in the
message body to unsubscribe.



---