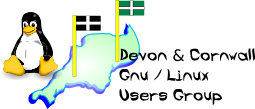 [ Date Index ] [ Thread Index ] [ <= Previous by date / thread ] [ Next by date / thread => ]
Re: [LUG] sme server for multiple domains
---
On Sun, 30 Jan 2005, Adrian Midgley wrote:


On Sat, 2005-01-29 at 11:03, Kelly Jones wrote:


Not really i am looking at a solution that can handle multiple domains
delivered via smtp or multi drop pop3 mailbox.  



May be worth studying procmail.  Not sure how it will scale.
(I know nothing of FTgate)

-- 
John Palmer
Preston near Weymouth, Dorset, England
e-mail:  johnp@xxxxxxxxxx (plain text preferred)
website: http://www.palmyra.uklinux.net/


--
The Mailing List for the Devon & Cornwall LUG
Mail majordomo@xxxxxxxxxxxxx with "unsubscribe list" in the
message body to unsubscribe.



---