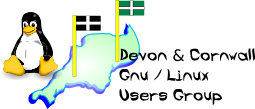 [ Date Index ] [ Thread Index ] [ <= Previous by date / thread ] [ Next by date / thread => ]
Re: [LUG] 64 bit Linux
Subject: Re: [LUG] 64 bit Linux
From: Rob Beard <rob@xxxxxxxxxxxxx>
Date: Sun, 30 Jan 2005 19:02:18 +0000
---
Julian Hall wrote:
My new laptop has an AthlonXP-M 3000+ which is a 64 bit CPU. I'd like to test its' capabilities with a 64 bit Linux distro. Any recommendations please?


Athlon XP, do you mean Athlon 64-M 3000+?
I'm using Suse 9.2 64-bit edition. I downloaded it from a Suse FTP mirror. The image I got is a DVD image (about 3.5GB download I think) and it has the option for 32-bit and 64-bit installation by the looks of things. It also seems to run both 32-bit and 64-bit apps without much if any messing about which I had with Fedora Core 2 (x86_64).
Rob

--
The Mailing List for the Devon & Cornwall LUG
Mail majordomo@xxxxxxxxxxxxx with "unsubscribe list" in the
message body to unsubscribe.
---