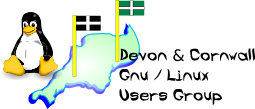 [ Date Index ] [ Thread Index ] [ <= Previous by date / thread ] [ Next by date / thread => ]
Re: [LUG] Linux Training
Subject: Re: [LUG] Linux Training
From: Neil via list <list@xxxxxxxxxxxxx>
Date: Tue, 14 Feb 2017 17:19:42 +0000
Delivered-to: dclug@xxxxxxxxxxxxxxxxxxxxx
Dkim-signature: v=1; a=rsa-sha256; q=dns/txt; c=relaxed/relaxed; d=dclug.org.uk; s=1475831162; h=Sender:Content-Type:Content-Transfer-Encoding:Reply-To:From:List-Subscribe:List-Help:List-Post:List-Unsubscribe:List-Id:Subject:In-Reply-To:MIME-Version:Date:Message-ID:References:To; bh=k/gA8xZ/ln+qvW564mwgA6Qcy1Rqf8NXBEzew/hc/lw=; b=BNq0kYSbm+8rvs2pB+KgYkQqi7tTWQQdcl6dQX02YxqnA6fwnBVpN6ozXFD8HlxeWkfpmfQwC4MN6gy/e0rPpjGZXuvd+PQaz3QHFYaPp6wxM0uQJWrvMZ+k9fTrAm1oBNd4968pXVU7Bh0gw9wI3nEaCCW8f5LApbXru2J0K4g=;
---

On 13/02/17 21:10, mr meowski via list wrote:


On 13/02/17 20:09, Paul Sutton via list wrote:




I would go with a Virtualbox VM .. I have yet to do it fully myself, but
its on the top of the to-do list ...




Seriously, I may regret this, but if anyone has virtualization questions
including "why the hell should I care about this", ask away.

Cheers


OK, so I have had a go at VBox again. After much struggling and trying to remember how I did it last time, I have got it running with the guest additions too.
Still trying to remember how to read folders on the main part of the disk so that I can transfer some of the files, and cannot at the moment get the VBox version to see my USB sticks. Oh well, some more research,


Neil

--
The Mailing List for the Devon & Cornwall LUG
https://mailman.dclug.org.uk/listinfo/list
FAQ: http://www.dcglug.org.uk/listfaq

---