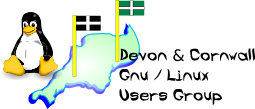 [ Date Index ] [ Thread Index ] [ <= Previous by date / thread ] [ Next by date / thread => ]
[LUG] Linux Training
Subject: [LUG] Linux Training
From: Neil via list <list@xxxxxxxxxxxxx>
Date: Mon, 13 Feb 2017 13:21:58 +0000
Delivered-to: dclug@xxxxxxxxxxxxxxxxxxxxx
Dkim-signature: v=1; a=rsa-sha256; q=dns/txt; c=relaxed/relaxed; d=dclug.org.uk; s=1475831162; h=Sender:Content-Type:Content-Transfer-Encoding:Reply-To:From:List-Subscribe:List-Help:List-Post:List-Unsubscribe:List-Id:Subject:MIME-Version:Date:Message-ID:To; bh=HsqG1aq6VDqHHVEHys+nGDyr+bziKsXO6rtQTKtMmCY=; b=Wh5I3lZ1Jwt+hVUSZUqNIhSp+dIBwtSIyO+zq0VgSZspfeuHzL2NU8PEyGLCW4krouEUDbkluOGcXti9OOPh8iQ25bEDTGG9CsOzvEwUp4k7jpqOli9DwQJW8OTdDmXwaQJdKtp6S1X56ZUI1gkaaBk5TO/X7GlFDAO+IW+b25g=;
---
A while ago a friend asked me if I would be willing to teach him about Linux. I said I would think about it. Since then his circumstances have changed and he has moved away from the area. However, it got me thinking about this, especially as I know that some of the people on the list are interested in getting more converts to the cause. So here are some of my thoughts and questions.
The scenario is that someone has asked me to get them started on Linux, having heard that it is a good system and being fed up with Windows.
First thing, the computer. I just do not like the dual boot with Windows set up, I think it can easily cause problems. So, we need an old computer which is no longer required, not too old I hope, or even a new one bought especially for the purpose.
Next comes the big question, which distro? I use Xubuntu so I know the xfce desktop well. There are other recommended distros for beginners such as Peppermint and Linux Lite which also use xfce. But what about others that I don't know so well? Would it be fair to restrict them to a distro just because I know it well, or would that simply be the sensible thing to do?
Then, how should we start? I could begin at the beginning with downloading the iso file, getting it on to a USB stick and then installing it. Or perhaps it would be better to do all that myself and to go straight to working with the new distro and come back to the installation etc afterwards.
Most Windows users know little or nothing about using a terminal screen, yet it is so useful and powerful. So what would be the best way to get that across? I think this would be one of the stumbling blocks to the whole scheme. Yet I feel that it is a very important part of the training.
Then the packages. Inevitably my personal likes and dislikes are going to come into this. For example, the browser. I hate Chrome/Chromium. I think that Firefox has become too bloated, so it is installed but rarely used. I do use one called Pale Moon (what FF should have become), and also a fairly new one called Vivaldi, which is my current favourite. There will be other package examples as well, no doubt. Of course, if it is one I Iike then it will be one I know well and should be one that I therefore teach well.
There are other questions that came to my mind about all this, but I don't want to keep on too long. However, one final thought, it would not be a good idea, or fair, to set them up and then just leave them to it. They will have problems and questions, a fairly steep learning curve, so I ought to be available to provide help and further training for some time.
I must admit that, when I heard that my friend was moving away, one reaction was relief. Providing training in Linux should not be taken lightly. It is quite a commitment. Or, to put it another way, a nightmare.


Any comments would be welcomed,

Neil

--
The Mailing List for the Devon & Cornwall LUG
https://mailman.dclug.org.uk/listinfo/list
FAQ: http://www.dcglug.org.uk/listfaq

---