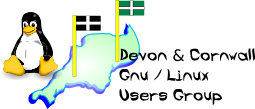 [ Date Index ] [ Thread Index ] [ <= Previous by date / thread ] [ Next by date / thread => ]
Re: [LUG] Simple programming language
Subject: Re: [LUG] Simple programming language
From: Tom <madtom1999@xxxxxxxxxxxxxx>
Date: Sat, 16 Nov 2013 20:27:22 +0000
Delivered-to: dclug@xxxxxxxxxxxxxxxxxxxxx
Dkim-signature: v=1; a=rsa-sha256; c=relaxed/relaxed; d=googlemail.com; s=20120113; h=message-id:date:from:user-agent:mime-version:to:subject:references :in-reply-to:content-type:content-transfer-encoding; bh=+l9SQBBToe+d7oKqAgJITdDUC6FM4aE6jL/lorLNXvg=; b=mBmkjcCnUb5LOx86LyPOJZouOf96NE9+UCkv1jN+YxKp7/savuT8Rywbsd558SDdm0 PmG173VGhsVyLdoogGg9juAewyICu6UdQDRLystlN820rO1QAqrQwjjBRPVdJUBaWCHP HEkeEuJJlpADdKZtq34Hpe4wWpQFYVgNMu3bjF+HAphHi8gdoaJCj5IwVMvwOXlAsgv5 eAl7Q3RRU2kK7Q7uwagy344Ku12DjAGBNpmEx48PriOnop14utBQyprIktzGSbe+fUtW BZ9HuJiP9pS6DXrQ/ngZVloOaCrnxHIon+lmXTE6MlzzR9cVuHQwKE+ML1YpvEcBGxNp SIPQ==
---

On 16/11/13 19:33, stinga wrote:


G'day all,



I am in the local school teaching programming and I want a non gui programming language.


Old style like BASIC.



I want to teach programming without having to teach a load GUI to get a simple program going.


BASIC seemed like a good idea.
Got to run on Windows , that's what they have.


We have used scratch so far, brilliant but they love putting in loads of sounds and stuff that really don't help the learning process.



Interpreted would be good but if we have to compile then I don't mind.

Any suggestions?


There's a tutorial for python called "snake wrangling for kids" out there too

Tom te tom te tom

--
The Mailing List for the Devon & Cornwall LUG
http://mailman.dclug.org.uk/listinfo/list
FAQ: http://www.dcglug.org.uk/listfaq


---