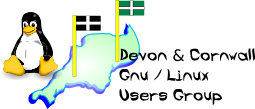 [ Date Index ] [ Thread Index ] [ <= Previous by date / thread ] [ Next by date / thread => ]
Re: [LUG] Meeting 19th
---

On 09/06/10 10:49, John Williams wrote:


On Wed, 2010-06-09 at 10:25 +0100, Gordon Henderson wrote:




Paul's transport limited, so would be relying on someone else anyway - and
I suspect it might just be him and one or 2 others at the Lighthouse -
although I'm now torn between going to the LH or coming up to North Devon
as I want to see what the LH is like - with a view to using it as a future
regular meeting place in Torbay - because it might prove to be a nicer and
more accomodating venue than the Shoreline...




There will be other months of course and it would certainly make sense
for you to check out the Lighthouse as a venue.




I agree, extra venues are always handy.



So I'd not be too concerned right now - This shouldn't really detract from
the regulars in N. Devon having a meeting, and you never know, if you get
'net connectivity and they get 'net connectivity in the LH, then you might
just be able to hook-up!




I do now have mobile internet, however its quite limited on quota and
highly unlikely to be capable of conferencing. Unless Holsworthy has
decent 3G on Orange but even so quota is still a problem.


I have the same issue (as do a couple of others in the LUG I believe). I have a Vodafone 3G modem which works reasonably well in Paignton (I'm lucky if I can get a GPRS signal at home!) but then I also have a limit on my allowance.

We have talked about the wifi internet access up here, but it was
unanimously decided it wasn't worth it for just a couple hours plus we
have to pay for it. Time goes fast enough in the meeting already, I know
I wish it was longer ;)

I'm surprised they don't make the wifi available for free. It's not as if Internet access costs much these days and they'd probably offset the cost of the wifi in extra visitors.
I'd also say if it doesn't feel like you have enough time, why not extend the meeting by an hour or so.
Personally I think the 3 hours or so we have in Paignton is about right, sometimes we do meet earlier if we need to do anything specifically, but if we're just having a general meeting then 3 hours is about right (for me anyway).


Rob


--
The Mailing List for the Devon & Cornwall LUG
http://mailman.dclug.org.uk/listinfo/list
FAQ: http://www.dcglug.org.uk/linux_adm/list-faq.html


---