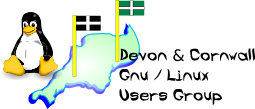 [ Date Index ] [ Thread Index ] [ <= Previous by date / thread ] [ Next by date / thread => ]
Re: [LUG] Meeting 19th
---

On 09/06/10 10:25, Gordon Henderson wrote:


On Wed, 9 Jun 2010, John Williams wrote:




On Wed, 2010-06-09 at 08:17 +0100, Neil Winchurst wrote:




Well, thanks very much (sarcastic). We in Holsworthy deliberately set
the meeting to be a fortnight away from the one in Paignton




Its true, it was discussed at the last meeting and we felt that people
halfway(ish) between the two may benefit or at least have the option too
attend either or both meeting if they were offset, hence the 6 weeks
between the May and the June meeting.

I'm not as upset as I can tell Neil is, but I am curious as to why the
install day was set on the same date, when we had purposely gone an
extra two weeks at this end without a meeting to generate this offset in
dates.




Paul's transport limited, so would be relying on someone else anyway -
and I suspect it might just be him and one or 2 others at the Lighthouse
- although I'm now torn between going to the LH or coming up to North
Devon as I want to see what the LH is like - with a view to using it as
a future regular meeting place in Torbay - because it might prove to be
a nicer and more accomodating venue than the Shoreline...


I'd say they're cheaper than the Shoreline for certain. To be fair the owner of the Shoreline has been good enough to let us hold meetings there, but he also has pretty much had guaranteed custom from us when as we all tend to at least buy a drink and possibly food. I think the way the female staff member spoke to Tom last Saturday might have been the last straw though.

So I'd not be too concerned right now - This shouldn't really detract
from the regulars in N. Devon having a meeting, and you never know, if
you get 'net connectivity and they get 'net connectivity in the LH, then
you might just be able to hook-up!

That would be good. Paying a fiver for net access isn't that bad. Maybe it's worth doing just the once to see how the chat would work (or if it would work well enough rather than us just waving to each other). I'm not sure what's happening with the internet at the Lighthouse, I believe they have a connection in there but Paul said they were having some problems. Maybe it could do with you going in Gordon and speaking to them as a reseller of Enta's services and a phone system expert, they might listen to you (as they take what we say in one ear and it goes out the other).

I'll run-up another PBX site so you can chat video or otherwise - the
one we used last time is now in the hands of the customer...




Sounds good.


Eventually we'll hopefully have a venue in Exeter for those folks in Exeter and East Devon. It's not the end of the world if it falls on the same say as another LUG meeting. If anything I'd say it's good that we're having more meetings so that we have more of a chance of getting to a reasonably local meeting, and if we wish, we can travel more further afield to other meetings to meet other members of the LUG.


Rob

--
The Mailing List for the Devon & Cornwall LUG
http://mailman.dclug.org.uk/listinfo/list
FAQ: http://www.dcglug.org.uk/linux_adm/list-faq.html


---