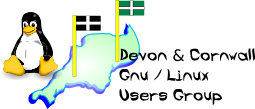 [ Date Index ] [ Thread Index ] [ <= Previous by date / thread ] [ Next by date / thread => ]
Re: [LUG] most graphically impressive live-cd - for a windows user to try
---

Roland Tarver wrote:


Good luck.  As far as I know Mint isn't that much different to Ubuntu and
Debian (since well it's based on Ubuntu which is based on Debian).  Might be
worth keeping a copy handy though if he does go for it just in case he
phones you with problems.  I've found from experience it's handy to have a
copy of the distro either installed or available on a Live CD (or even an
ISO image kicking around to boot in VirtualBox) as then you can try and
replicate the issue yourself or see pretty much what options they have (this
helped the other day when my step-dad had some problems on his new laptop
and I was able to tell him exactly what to click without having to
remember).

Rob




Hmmm! Ok yes - all of that sounds very sensible. I am afraid I have
yet to learn much (anything) about virtual box. I have kept the ISO
image on my hard disk so I will burn another copy, as you suggest.

In addition to your suggestions, I guess I could also use some form of
VPN and SSH stuff to admin his computer remotely - should he get into
trouble. Again - both subjects I know a little about (yet! ;-)) hehe!.

thanks again
Best wishes
Roly


I managed to get VNC over SSH working quite well. I configured it so it connects via my server (so I can connect to my mum & step dad's laptop even if I'm away from home without having to setup port forwarding on their router). I'll get some instructions written up over the next couple of days and post it to the list (or wiki).


Rob


--
The Mailing List for the Devon & Cornwall LUG
http://mailman.dclug.org.uk/listinfo/list
FAQ: http://www.dcglug.org.uk/linux_adm/list-faq.html


---