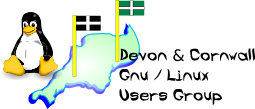 [ Date Index ] [ Thread Index ] [ <= Previous by date / thread ] [ Next by date / thread => ]
Re: [LUG] If You Support Free Software, Talk To Your MP Now
Subject: Re: [LUG] If You Support Free Software, Talk To Your MP Now
From: John Hansen <whitover@xxxxxxxxxxxxxx>
Date: Mon, 15 Mar 2010 16:28:01 +0000
Delivered-to: dclug@xxxxxxxxxxxxxxxxxxxxx
Dkim-signature: v=1; a=rsa-sha256; c=relaxed/relaxed; d=btinternet.com; s=s1024; t=1268670469; bh=x46oWb7h67kTxcU2qoUrkZ5i1rPxXkPUvSxikdalo+k=; h=Received:X-Yahoo-SMTP:X-YMail-OSG:X-Yahoo-Newman-Property:Message-ID:Date:From:User-Agent:MIME-Version:To:Subject:References:In-Reply-To:Content-Type:Content-Transfer-Encoding; b=zVn3P5XGlfUuAOh+o5PGKKbtTlymM5hYkx8gWFlkyql5YOxsEhiJILTVMwStetFvCb4pou/9VNglwHaREG4KbQOMvCSzUpqyzwCFal59KbO1dCX2UoVGih0ZR7bHgIAf1Q2AuK+2PB9ZqXP65MkCrkVsZQG3E31LVU2xpTCkW8c=
---

On 15/03/2010 16:22, Henry Bremridge wrote:


On Mon, Mar 15, 2010 at 03:23:40PM +0000, John Hansen wrote:



On 15/03/2010 13:31, Henry Bremridge wrote:
Henry,

I am no wiser having read these two references. How does any of its
provisions affect Linux users?
I do not download music if that is the problem.




John

The first link is if you want to write to your mp, as opposed to going
along to a surgery and seeing him there. Frankly I sometimes have
problems knowing who my mp is. The Write to Them site gets the email
delivered easily

The second link is a summary, albeit on wikipedia, on what the proposed
bill offers. It is short summary of how it may impact users. For example
in reading that link I could write to my MP and argue that

- I like free software: I think the bill should by default mandate use
   of it in any institution that relies on public money.

- I do not think ISPs should disclose the names of parties who could be
   guilty unless there is clear definition of what this entails. If a
   large company goes to a small ISP and says "give me this or else", how
   can the small ISP defend itself?

   Similarly if ISPs should divulge possible guilty parties then this
   should apply across the law. Can you imagine the chaos? If you do not
   tell the police that an MP may be claiming excessively then you can be
   prosecuted.

- I think the rights of large corporate patent holders | copyright
   holders is getting to the point where it is counter productive to
   economic growth. There are areas where monopoly profits are acceptable
   (eg certain pharma products) but otherwise I feel they should be cut
   back. Not further protected.

- I think the Bill is another example of the current Government
   promulgating bad legislation because it wants to be seen to be doing
   something, as opposed promoting legislation that improves the economic
   welfare of the average consumer.




Henry,

Thank you for this explanation much of which I understand.


John W

--
The Mailing List for the Devon & Cornwall LUG
http://mailman.dclug.org.uk/listinfo/list
FAQ: http://www.dcglug.org.uk/linux_adm/list-faq.html


---