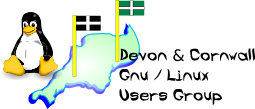 [ Date Index ] [ Thread Index ] [ <= Previous by date / thread ] [ Next by date / thread => ]
Re: [LUG] OT: Terry Pratchett
Subject: Re: [LUG] OT: Terry Pratchett
From: Steph Foster <steph.p.foster@xxxxxxxxxxxxxx>
Date: Sun, 13 Dec 2009 03:48:14 +0000
Delivered-to: dclug@xxxxxxxxxxxxxxxxxxxxx
Dkim-signature: v=1; a=rsa-sha256; c=relaxed/relaxed; d=googlemail.com; s=gamma; h=domainkey-signature:received:received:message-id:date:from :user-agent:mime-version:to:subject:references:in-reply-to :content-type:content-transfer-encoding; bh=PftBixVmMYOcOJH2XmJYjskMrg1SiOIrvQmcqFOOcEw=; b=YIydve/rAWCu/FA/RlLqILBdJxP96aGpt5XTptmWgr2B8ffCXNYm3maBlfSrrvikey TG7Cn2/Muvaarm6W90bxfe90PdxYPPT0wCweeL1YpTfORrsfenkm0+sGAm3IAjebJMZz 1EvByUpVlp3x8Fhnc9SK9uYkyBG8hW+aZ25vw=
---

Julian Hall wrote:



I have all the Discworld series, some of the children's books, the New Discworld Companion and vol 3 of the Science of Discworld. I wasn't as keen on Nation, but I am looking (I nearly typed 'ooking' *LOL*)

Bananas at the ready !


>> as all my book reading is in bed and I don't fancy the black eye I'd give myself dropping the hardback on my face bursting out laughing :)





When asked I describe TP as a mix of Monty Python and Tolkien - fantasy and hare-brained madness :)

Perhaps a good metaphor !



What are people's favourite books? Mine is usually 'the one I'm reading now' which is a cop-out, but in general I think Night Watch, or possibly Monstrous Regiment.


I think probably "Guards Guards" or "Pyramids".



The tongue in cheek reference to Freemasonry in Guards Guards gave me such a belly laugh.
Even when we do lose the dear Mr P to Alziheimers we can still remember him as he was by simply opening a book.



Just remember that drinking too much coffee can make you knurd.

Steph




--
The Mailing List for the Devon & Cornwall LUG
http://mailman.dclug.org.uk/listinfo/list
FAQ: http://www.dcglug.org.uk/linux_adm/list-faq.html


---