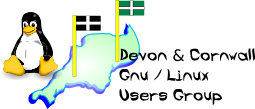 [ Date Index ] [ Thread Index ] [ <= Previous by date / thread ] [ Next by date / thread => ]
Re: [LUG] linux in small business - articles
Subject: Re: [LUG] linux in small business - articles
From: Rob Beard <rob@xxxxxxxxxxxxx>
Date: Tue, 13 Oct 2009 13:39:48 +0100
---

Paul Sutton wrote:


-----BEGIN PGP SIGNED MESSAGE-----
Hash: SHA1

At the last meeting there was talk on converting a business to OSS then
writing about the experiences for the press.

It seems that the first part of this is already happening,  would people
be willing to write about their experiences as case studies, for
possible publication.  clearly you need the permission of the client too.

Perhaps if they are written as plain text,  then it can be published in
a variety of formats,  so can be converted to .odt,  pdf, html etc,
wiki, for both website publication and download.  I could probably host
some of it,  then eventually transfer to the lug website,

The more case studies we can come up with the better, we should be able
to get stuff published in the Herald Express at least? (torbay paper)

Paul

Well I could write about it from a general perspective of installing a couple of Linux based servers instead of Windows servers. Not really converted any small business desktops yet to Linux although in the next few days I'm hoping to get the PC done and installed for the charity I'm working with. This will be an Ubuntu based machine and according to who I have been dealing with, there should be some newspaper article about it in the Herald Express.
A client of mine had actually been featured (a couple of times) in the Herald Express in the past couple of weeks. One is for their business which has a web site provided by Create-a-net and another about one of the directors who is running the New York Marathon for Cancer Research (and has raised over £8k!). I could speak to her about maybe doing something for the Herald when things have calmed down a bit (I've been doing a server replacement for them over the past couple of days after their old one died, although this was a hardware failure rather than a failure of the OS).
I've also got another customer who has opened a shop who may be interested (I think they might like the free publicity) although again they don't run Linux desktops, only a Linux server.


Rob


--
The Mailing List for the Devon & Cornwall LUG
http://mailman.dclug.org.uk/listinfo/list
FAQ: http://www.dcglug.org.uk/linux_adm/list-faq.html




---