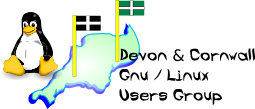 [ Date Index ] [ Thread Index ] [ <= Previous by date / thread ] [ Next by date / thread => ]
Re: [LUG] unix is 40 years old this year
Subject: Re: [LUG] unix is 40 years old this year
From: Rob Beard <rob@xxxxxxxxxxxxx>
Date: Tue, 13 Oct 2009 13:31:59 +0100
---

Gordon Henderson wrote:


On Tue, 13 Oct 2009, Paul Sutton wrote:




http://www.unix.org/






I claim boring old guy!!! (Although I've just shaved off the grey beard I was sporting at the last meet!)





I first used a Unix system when I was 19... That was 28 years ago, so I didn't quite get into it in it's first decade. It was Unix v6 and was cosidered old then... Running on a PDP11/40 with 128K words (16-bit) of magnetic core memory, a 3MB fixed disk and a removable 1.5MB drive.





And here we are, whinging about needing a 'PC' wih 4GB of RAM for daily use...



Gordon


I first heard about Unix back in 1995 in my first job. One of the partners in the company had some Unix experience and told me about it. I was fascinated by the idea of running multiple users off one machine with dumb terminals. In fact it was also the first time I got to play with a Wyse terminal. I remember developing some software there and outputting debug messages via the serial port to the terminal.
Then my second job was as a junior programmer working on SCO Unix. IIRC it was SCO OpenServer 5.
It's great really when you think about it, Unix is 40 and it's still going strong. I wonder if we'd be able to say the same about Windows when it's 40?


(what is Windows now, nearly 30?).


In an unrelated note, good thing no one said Google* in the making of this advert otherwise they might have had an old IBM PC wedged in their head...


http://www.youtube.com/watch?v=GL4hyATkQ74

Rob


* Okay, I know, Google wasn't around then, but hey I hear Steve Balmer has a thing about chairs and Google.


--
The Mailing List for the Devon & Cornwall LUG
http://mailman.dclug.org.uk/listinfo/list
FAQ: http://www.dcglug.org.uk/linux_adm/list-faq.html




---