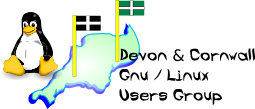 [ Date Index ] [ Thread Index ] [ <= Previous by date / thread ] [ Next by date / thread => ]
Re: [LUG] Projecting a portion of a screen
Subject: Re: [LUG] Projecting a portion of a screen
From: "Michael Mortimore" <nospamformike@xxxxxxxxxxxxxx>
Date: Tue, 22 Sep 2009 04:48:35 +0100
Dkim-signature: v=1; a=rsa-sha256; c=relaxed/relaxed; d=googlemail.com; s=gamma; h=domainkey-signature:received:received:content-type:to:subject :references:date:mime-version:content-transfer-encoding:from :message-id:in-reply-to:user-agent; bh=wEuJcr/uKBKp1FtTCVu0Spuzh4AGILDeaijLOLfVgI0=; b=F/0PwVgMSh4+tVf83mi9LsbjhPbq+pjC5dwtAbAr2Fh9c3ru0J2+bpVp8L4dtTQ/FF mdO8wRRsaZeAlMt+mKxdTOGpwAIDHMk3VHhUgJgF80Pi/jHcpe3BxhRIlvFv8QX8czVQ tDHGWSR0CJnShVo8ncfuiNQM4MC7SiB7Pd3us=
---
On Sun, 20 Sep 2009 23:35:48 +0100, Dan Lewis <danlewis.ltd@xxxxxxxxx> wrote:

i can and failing all us will do this - its just that it leaves the


widescreen laptop looking very weird as everything is stretched out. worst


case scenario this is what i will do. would be ok if you could stop the
distortion by having blank black strips on each side like they do with
widescreen tvs showing old films...
Dan

In XP you can go into the display settings then drag the screens around. If you make them overlap then I think you end up with both screens showing the overlap region (as well as their own) and I'm pretty sure it'll let you put 1 screen "inside" the other, so you could have your projector magnifying the center of the screen. I would expect Vista to have similar options to play with.
The other thing i can think of is the magnifier utility. If they still provide that then you could maximise the magnifier window across the projector and it'd follow the mouse pointer on the laptop screen.
The thing that occurs to me though, since someone suggested just running the laptop at 800x600, is why does it matter if the laptop screen looks funny if the user isn't able to see it clearly enough to use it anyway? Just close the lid so you don't have to look at it.


--
The Mailing List for the Devon & Cornwall LUG
http://mailman.dclug.org.uk/listinfo/list
FAQ: http://www.dcglug.org.uk/linux_adm/list-faq.html




---