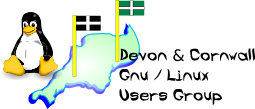 [ Date Index ] [ Thread Index ] [ <= Previous by date / thread ] [ Next by date / thread => ]
Re: [LUG] Newcomers to Linux (2)
Subject: Re: [LUG] Newcomers to Linux (2)
From: Simon Waters <simon@xxxxxxxxxxxxxx>
Date: Wed, 10 Jan 2007 21:13:31 +0000
Openpgp: id=8F455606
---
Jonathan Roberts wrote:
>
> GnomeSudoku...it's great!

For the serious puzzler -- "apt-get install sgt-puzzles"

Sudoku (aka "Solo" in SGT), but with a bit more bite than the
GNOME-Sudoku I think (or perhaps I'm just getting too good at them).

The "unreasonable" level just about sets some challenge to a Sudoku.

Hehe, am I alone in finding the 2x3 ones more challenging (for their
size any way). Solo does eventually produce an "unreasonable 2x3".



Attachment: signature.asc
Description: OpenPGP digital signature
-- 
The Mailing List for the Devon & Cornwall LUG
http://mailman.dclug.org.uk/listinfo/list
FAQ: http://www.dcglug.org.uk/linux_adm/list-faq.html

---