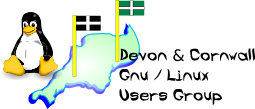 [ Date Index ] [ Thread Index ] [ <= Previous by date / thread ] [ Next by date / thread => ]
Re: [LUG] Microsoft in flying car FUD
Subject: Re: [LUG] Microsoft in flying car FUD
From: Mark Evans <mpe@xxxxxxxxxxxxxxxxxxxxxx>
Date: Sun, 30 Jan 2005 21:56:30 +0000
---
Julian Hall wrote:
Grant Sewell wrote:



Like I said... scenic detours :D

Grant.




Maybe MS are intending to buy out Lotus and are thinking of relaunching James Bond's Lotus Esprit? ;)

What are the odds that after Microsoft get through with it the result will look more like a clapped out Ford Anglia?
However, I'm going to follow the time-honoured process of choosing between conspiracy and cockup. As Microsoft are involved, I choose cockup :)

There's always "cocked up conspiracy" as a third option :)
Attachment: signature.asc
Description: OpenPGP digital signature
---