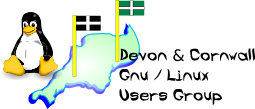 [ Date Index ] [ Thread Index ] [ <= Previous by date / thread ] [ Next by date / thread => ]
[LUG] FW: UKUUG LISA/Winter Conference and Perl 6 Workshop
Subject: [LUG] FW: UKUUG LISA/Winter Conference and Perl 6 Workshop
From: Alex Charrett <alex@xxxxxxxxxxxx>
Date: Sun, 30 Jan 2005 22:12:04 +0000
---
-------- Forwarded Message --------
From: Alasdair G Kergon <agk@xxxxxxxxxx>
To: list@xxxxxxxxxxxx
Subject: UKUUG LISA/Winter Conference and Perl 6 Workshop
Date: Sun, 30 Jan 2005 20:00:31 +0000

Preceded by an Exim conference, and FOSDEM starts the day after 
in Brussels: Sat 26 - Sun 27 Feb, www.fosdem.org  (free).
The 2nd Gentoo UK meeting takes place in Manchester on Sat 12th March.
http://dev.gentoo.org/~stuart/2005/

++++++++++++++++++++++++++++++++++++++++++++++++++++++++++++++++++++

Announcement: UKUUG LISA/Winter Conference and Perl 6 Workshop

Paragon Hotel, Birmingham, 24th & 25th February 2005

UKUUG - the UK's Unix and Open Systems User Group - announces the 
final programme for their upcoming Winter Conference.  This will take
place at the Paragon Hotel, Birmingham, on Thursday 24th and Friday
25th February 2005.  Earlybird registration closes on Monday 31st January.

On Thursday morning, Allison Randal, president of the Perl Foundation
and project manager for Perl 6, will deliver a Perl 6 Workshop. The
theme of the main conference is "Security and Networks".  This begins
on Thursday afternoon with a keynote by Wietse Venema, author of TCP
Wrappers and the Postfix MTA.  The conference also includes speakers
from the OpenBSD and FreeBSD projects; Oracle; Hewlett-Packard;
University of Oxford; University of Cambridge; and many more.

This conference is a must-attend event for system and network
administrators. As well as the technical talks, the conference
provides a friendly environment for delegates to meet, learn and enjoy
lively debate on a host of subjects.

See the conference web site for full details and up-to-date
information: 

 http://www.ukuug.org/events/winter2005/





--
The Mailing List for the Devon & Cornwall LUG
Mail majordomo@xxxxxxxxxxxxx with "unsubscribe list" in the
message body to unsubscribe.



---