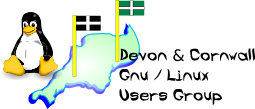 [ Date Index ] [ Thread Index ] [ <= Previous by date / thread ] [ Next by date / thread => ]
Re: [LUG] Wireless suggestions please :)
Subject: Re: [LUG] Wireless suggestions please :)
From: Julian Hall <linux@xxxxxxxxxxxx>
Date: Tue, 25 Jan 2005 15:16:03 +0000
---
Grant Sewell wrote:
Two! There's blatantly three questions here! :D



Hmm back to class again.. one sheep.. two sheep... well I'm blowed.. he's right! ;)
If it's a network cable, then we can presume that this is an option.


I know for a fact it's a network cable.... there is an Ethernet port provided for the purpose. Since it communicates with the router for setup I see no real reason it wouldn't communicate permanently :)
Kind regards,
Julian
--
The Mailing List for the Devon & Cornwall LUG
Mail majordomo@xxxxxxxxxxxxx with "unsubscribe list" in the
message body to unsubscribe.
---