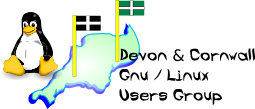 Devon & Cornwall Linux Users' Group
[ Date Index ][ Thread Index ]
[ <= Previous by date / thread ] [ Next by date / thread => ]
Re: [LUG] Organising Meets
---
---
Sadie Brinham wrote:
Thanks,Julian.
So,if I burned 4 ISOs-disc 1,disc2,disc3,disc4 as you described,when a person booted from the resulting DVD,would the installation run as normal?



That I'm not sure of. I was just considering the point of saving you burning 4 or 5 times as many CDs when you could burn less DVDs and not give your burner a heart attack ;) The ISOs on the DVD would simply be ISO files and would need to be copied off by the new owner onto individual CDs.
I'm not sure if there is any duplication of filenames across different CDs in a distro. I have a nasty feeling there is. However if not it ought to be possible to drag all the files from all the CDs onto the HD and then into the DVD creation in the root folder and then burn the lot.
However if anyone on the list knows how LF got their DVD to boot and install Linux from the one disc please feel free to jump in and call me a prat :)
Shall I get busy toward the next meet,then?(Really seeking official confirmation,here:))



Not my place to say, being in Wales and all ;)
Good luck :)
Julian
PS curiously Thunderbird tries to spellcheck Brinham and ignores Sadie.... hummm :)
--
The Mailing List for the Devon & Cornwall LUG
Mail majordomo@xxxxxxxxxxxx with "unsubscribe list" in the
message body to unsubscribe.
---
Lynx friendly