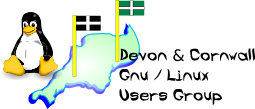 Devon & Cornwall Linux Users' Group
[ Date Index ][ Thread Index ]
[ <= Previous by date / thread ] [ Next by date / thread => ]
[LUG] Install attempt.
---
---
Hi everyone. I thought it was about time I actually started using Linux properly. So....I tried to install Mandrake 9.0 but it`s not having it. The mainboard is a VIA ITX that has sound, video, eithernet and processor all built into the board. Is it possible that this is the reason for the non-install?.
...supose I could go back to lurking.....Jon...
-- The Mailing List for the Devon & Cornwall LUG Mail majordomo@xxxxxxxxxxxx with "unsubscribe list" in the message body to unsubscribe.
---
Lynx friendly