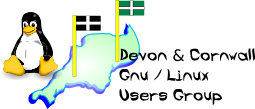 Devon & Cornwall Linux Users' Group
[ Date Index ][ Thread Index ]
[ <= Previous by date / thread ] [ Next by date / thread => ]
Re: [LUG] part of the ecology
---
---

On 11 Aug 2004, at 10:03, Adrian Midgley wrote:
Lots of commercial, non-open, software runs on Linux, and that is a good thing.
I don't think we should restrict ourselves actually.

Commercial is fine. Proprietary is the problem.
Non free software isn't something I want to see on GNU/Linux. I see it as a bad thing.
I disagree, I think we should only promote things that are altruistic.
matt
Attachment: PGP.sig
Description: This is a digitally signed message part
---
Lynx friendly