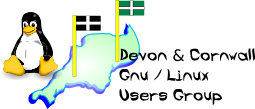 Devon & Cornwall Linux Users' Group
[ Date Index ][ Thread Index ]
[ <= Previous by date / thread ] [ Next by date / thread => ]
Re: [LUG] part of the ecology
---
---

On 11 Aug 2004, at 01:00, Neil Williams wrote:
There is already a Linux and Business section on DCLUG
http://www.dclug.org.uk/linux_doc/business.html


Feel free to extend the selection using the Wiki and I'll add a link.

I'm pleased to note that 'Mambo Open Source' have seen the light, dropped the stupid phrase and now state "Mambo is Free Software released under the GNU/GPL License"
Could the link be updated?
I'm not keen that we promote companies that promote proprietary software - what do others feel about this? I think we should offer our support to free software only.
matt
Attachment: PGP.sig
Description: This is a digitally signed message part
---
Lynx friendly