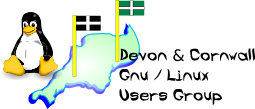 Devon & Cornwall Linux Users' Group
[ Date Index ][ Thread Index ]
[ <= Previous by date / thread ] [ Next by date / thread => ]
Re: [LUG] part of the ecology
---
---
On Wed, 11 Aug 2004 01:19:17 +0100, Matt Lee <mattl@xxxxxxx> wrote:
I'm not keen that we promote companies that promote proprietary
software - what do others feel about this? I think we should offer our
support to free software only.

Lots of commercial, non-open, software runs on Linux, and that is a good thing.
I don't think we should restrict ourselves actually.

--
AKM
Homefield Surgery Heavitree Exeter 01392 214151
--
The Mailing List for the Devon & Cornwall LUG
Mail majordomo@xxxxxxxxxxxx with "unsubscribe list" in the
message body to unsubscribe.
---
Lynx friendly