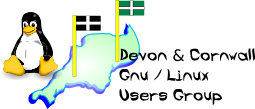 Devon & Cornwall Linux Users' Group
[ Date Index ][ Thread Index ]
[ <= Previous by date / thread ] [ Next by date / thread => ]
RE: [LUG] Scottish libraries lending OpenOffice Cds
---
---
>Starting with Devon then ...
>Devon County Council --> Library service

Dont forget that Torbay & Plymouth are Unitary and therefore have a separate
library service for Devon County. If this project takes off as a local
project you can count me in for the Torbay Lobbying since I work right next
to Torbay's Central Library :-)

Judging by what is said in Mr Kerr's howto document we may need to get the
disks done professionally (ie pressed not burnt). Reading further in his
document it must have cost him a small fortune from his personal pocket.

Tom.

Information in this message is confidential and may be legally privileged.
It is the intended solely for the person ( or persons) to whom it is
addressed. If you are not the intended recipient, please notify the sender,
and please delete the message from your system immediately. The views in
this message are personal, they are not necessarily those of Torbay Council.


--
The Mailing List for the Devon & Cornwall LUG
Mail majordomo@xxxxxxxxxxxx with "unsubscribe list" in the
message body to unsubscribe.


---
Lynx friendly