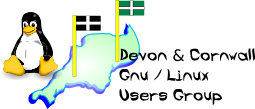 Devon & Cornwall Linux Users' Group
[ Date Index ][ Thread Index ]
[ <= Previous by date / thread ] [ Next by date / thread => ]
Re: [LUG] Scottish libraries lending OpenOffice Cds
---
---
On Saturday 20 Dec 2003 12:30 pm, Robin Cornelius wrote:
> I also think that a flood of CD's would not be helpful and in the first
> instance a small number of highly usefull CD's would be the way forward. My
> First thoughts are openoffice (windows+linux version) and a knoppix type
> linux distro.
>
This all seems very interesting. Penwith District Council uses Sun OS and Star 
Office rather than the M$ versions. One potential pitfall is if people keep 
troubling the library service when they have problems installing or running 
the suite. Especially installing the spellcheck. Some of the instructions 
with the CD can be off-putting to mere mortals.

Peter.

--
The Mailing List for the Devon & Cornwall LUG
Mail majordomo@xxxxxxxxxxxx with "unsubscribe list" in the
message body to unsubscribe.


---
Lynx friendly