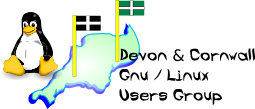 Devon & Cornwall Linux Users' Group
[ Date Index ][ Thread Index ]
[ <= Previous by date / thread ] [ Next by date / thread => ]
Re: [LUG] Scottish libraries lending OpenOffice Cds
---
---
On Monday 22 December 2003 16:59, Brough, Tom wrote:

> Dont forget that Torbay & Plymouth are Unitary 
Thanks.

> Judging by what is said in Mr Kerr's howto document we may need to get
> the disks done professionally (ie pressed not burnt). 

I don't think the run has to be very large to make pressing more economic 
than burning.

-- 
Dr Adrian Midgley          I use Free software because it is better
http://www.defoam.net/    They carefully didn't ask.         

--
The Mailing List for the Devon & Cornwall LUG
Mail majordomo@xxxxxxxxxxxx with "unsubscribe list" in the
message body to unsubscribe.


---
Lynx friendly