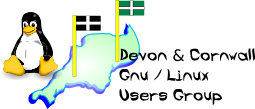 Devon & Cornwall Linux Users' Group
[ Date Index ][ Thread Index ]
[ <= Previous by date / thread ] [ Next by date / thread => ]
[LUG] ASDL/Router
---
---
Hi

I want to connect via ASDL and my ISP reckons I need to get either an
ASDL Modem or router. I already have a 56k modem. If I go the router way
do I use my 56k modem? Which is the best way to go? I have a network.
Would a router be better.

Thanks

Rich



--
The Mailing List for the Devon & Cornwall LUG
Mail majordomo@xxxxxxxxxxxx with "unsubscribe list" in the
message body to unsubscribe.


---
Lynx friendly