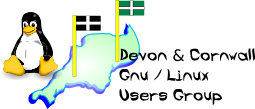 Devon & Cornwall Linux Users' Group
[ Date Index ][ Thread Index ]
[ <= Previous by date / thread ] [ Next by date / thread => ]
Re: [LUG] ASDL/Router
---
---
On Thursday 18 September 2003 14:30, Richard Brown wrote:
> Hi
>
> I want to connect via ASDL and my ISP reckons I need to get either an
> ASDL Modem or router. I already have a 56k modem. If I go the router way
> do I use my 56k modem? Which is the best way to go? I have a network.
> Would a router be better.

I'm afraid you have to junk your 56k modem 'cause it's designed for PSTN, 
which ADSL isn't.

Your options are either a) to get hold of an ADSL "modem" , hang it off of one 
of the machines in your network, leave that machine on all the time (or at 
least when you want to access the internet) and have it (the machine) route 
packets, or b) acquire an ADSL router which will include a "modem" and will 
handle the routing (and often firewall facilities) for all of the machines on 
your network.

jd

-- 
John Daragon           argv[0] limited               john@xxxxxxxxxx
Lambs Lawn Cottage, Staple Fitzpaine, Taunton TA3 5SL, UK
(house) 01460 234537                           (office) 01460 234068
(mobile) 07836 576127                          (fax)     01460 234069

--
The Mailing List for the Devon & Cornwall LUG
Mail majordomo@xxxxxxxxxxxx with "unsubscribe list" in the
message body to unsubscribe.


---
Lynx friendly