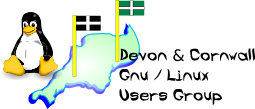 Devon & Cornwall Linux Users' Group
[ Date Index ][ Thread Index ]
[ <= Previous by date / thread ] [ Next by date / thread => ]
Re: [LUG] expo uk 2003
---
---
On Thursday 18 September 2003 21:34, you wrote:
> I got the form at work, not sure that i will be able to get time for the
> trip to london though.

Well, I live and work in London now (cry), but I dont get to go as I'll be 
working :(

Being a student does have some advantages I guess.

--
The Mailing List for the Devon & Cornwall LUG
Mail majordomo@xxxxxxxxxxxx with "unsubscribe list" in the
message body to unsubscribe.


---
Lynx friendly