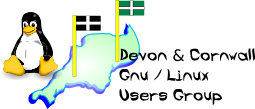 Devon & Cornwall Linux Users' Group
[ Date Index ][ Thread Index ]
[ <= Previous by date / thread ] [ Next by date / thread => ]
Re: [LUG] Heist ad: IBM, Linux, and audio from MPEG 1
---
---
Dear All,
    I have the same problem as Tony.  It seems that Version 1.0.1 of Notun 
for KDE has a couple of bugs in it that it ill not play mp3's or mpegs with 
sound.  The answer seems to be to upgrade to v1.2.  I downloaded the RPM for 
this but seen as I a bit simple I cannot get it to run (please see post from 
Dec 14th for details).  Can someone help???
cheers,
Jody Dunstan.

--
The Mailing List for the Devon & Cornwall LUG
Mail majordomo@xxxxxxxxxxxx with "unsubscribe list" in the
message body to unsubscribe.


---
Lynx friendly