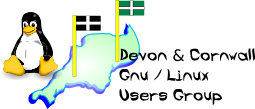 Devon & Cornwall Linux Users' Group
[ Date Index ][ Thread Index ]
[ <= Previous by date / thread ] [ Next by date / thread => ]
Re: [LUG] Heist ad: IBM, Linux, and audio from MPEG 1
---
---
I got audio + video from kde media player (Noatun), no problems.  Nice
ad! Very IBM.  My environment - Noatun 1.2.0, KDE 2.2.2, Qt 2.3.1



OK, its me.
Where should I look first?  I'm new to the multimedia stuff on any platform.
DO you have a list of codecs you have that I could seek to compare?


-- 
From one of the Linux desktops of Dr Adrian Midgley 
http://www.defoam.net/             

--
The Mailing List for the Devon & Cornwall LUG
Mail majordomo@xxxxxxxxxxxx with "unsubscribe list" in the
message body to unsubscribe.


---
Lynx friendly