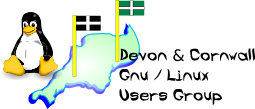 Devon & Cornwall Linux Users' Group
---
[
Date Prev
][
Date Next
][
Thread Prev
][
Thread Next
][
Date Index
][
Thread Index
]
Re: [LUG] LDE: Page on LUG Site.
---
---

Alex Charrett wrote:
> 
> > Might be worth mentioning it is Sunday.
> 
> I've added that now.

ta

> > Hmm - bizarre map link - could have used the University directions.
> 
> The streetmap one?  I just stuck the uni postcode into the site to get that,
> as I have no local knowlege of Exeter, its difficult to know if it's helpful
> or not.  Any improvements would be great :).

You seem to have bypassed their plan that people would buy the map for
their web site.

That was what seemed bizarre.
 
> > It's still slow so slow the termisoc site - is it on some bizarre
> > internal link at the University?
> 
> Oddly enough not, its in a very good place network wise (last time I
> looked).
> 
> The problem has often been the whole site connection.  It has a tendancy to
> get saturated.
> 
> I have been wondering about wether it would be sensible to move the site to
> another box.  Pi would seem a prudent choice.
> 
> For those who have never heard of pi, it's a linux box co-lo'd at
> Webfusion/Dedicated servers in Nottinghgam and run by the other Alex and
> myself with jon having a hand in it when needed. The link to it is pretty
> sprightly.
> 
> Thoughts?

How do you persuade these people to host servers for you ?

When I left Uni it was hard enough to get an account (Tardis at Edin
came to the rescue)...

-- 
Want to learn about Linux? Get it installed?
Devon and Cornwall LUG Event for UK Linux Day 
Exeter University - Sunday April 29th 2001 10:00 to 17:00
www.linuxday.org.uk or join D&C LUG www.lug.termisoc.org
--
lug-list - The Mailing List for the Devon & Cornwall LUG
Mail majordomo at lists.termisoc.org with "unsubscribe lug-list" in the
message body to unsubscribe.


---
Lynx friendly