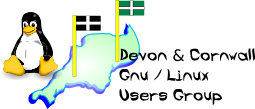 Devon & Cornwall Linux Users' Group
---
[
Date Prev
][
Date Next
][
Thread Prev
][
Thread Next
][
Date Index
][
Thread Index
]
[LUG] Printing problem
---
---

Can anyone help please?

I run RedHat 6.1 Linux alongside Windows95. In the past they have both
worked perfectly with respect to my Epson Color 600 printer.

Then I tried to improve Linux printing by installing Cups from a
magazine. I made a mess of the installation!

To try to put things right I reinstalled RedHat 6.1 - the lot. Now
Windows works fine, but Linux does not print at all.

When I do lpq I get
          waiting for lp to become ready (offline?)
followed by a list of files in the queue.

Attempting to use lpc to get lp to work I get messages like
          /usr/sbin/lpc: connect: Connection refused
                   couldn't start daemon

Any ideas please?

--
lug-list - The Mailing List for the Devon & Cornwall LUG
Mail majordomo at lists.termisoc.org with "unsubscribe lug-list" in the
message body to unsubscribe.


---
Lynx friendly