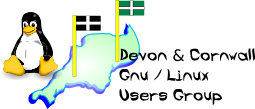 [ Date Index ] [ Thread Index ] [ <= Previous by date / thread ] [ Next by date / thread => ]
Re: [LUG] Laptop problem
Subject: Re: [LUG] Laptop problem
From: Neil <barnaby@xxxxxxxxxxxx>
Date: Tue, 5 Dec 2017 08:48:04 +0000
Content-language: en-GB
Delivered-to: dclug@xxxxxxxxxxxxxxxxxxxxx
Dkim-signature: v=1; a=rsa-sha256; q=dns/txt; c=relaxed/relaxed; d=dclug.org.uk; s=1507453562; h=Sender:Content-Type:Content-Transfer-Encoding:Reply-To:List-Subscribe:List-Help:List-Post:List-Unsubscribe:List-Id:Subject:In-Reply-To:MIME-Version:Date:Message-ID:From:References:To; bh=0QBn7BGnPMhQQLBcM6JpY5/OG2Dr2nqzbKX3tVHzQuk=; b=TX7e+MS3AX3tFU4L1bTLU3BWO9zmvCJ95dpjJ0SniiCFIbUPcXA1rkecVQa5yFCflYi+LTQ+xSm7iNyubM1cY+nwojy6joUqY+44cPMEu4L0hJ15BSU//RKI9nC6tCZvJY3Eo2tCY/LotOXopteiB8o+28DwZN+WpyofYpEOjlU=;
---

On 05/12/17 07:54, leloft wrote:



Have you updated X11 recently?  Are the mouse and keyboard usb?  If
they are, try unplugging them and putting them into a different socket
and force the system to find them afresh.  If they do start working,
then take a look at these two links: it may be that you need to
install xserver-xorg-legacy.
There's a Debian bug report here:
https://bugs.debian.org/cgi-bin/bugreport.cgi?bug=868068
and a discussion thread here
https://dev1galaxy.org/viewtopic.php?id=1512
If you aren't using a display manager to grant root rights to X11, you
may need:
[code]
  #echo "needs_root_rights=yes" >> /etc/X11/Xwrapper.config
[/code]
to get it working from the console with '$startx'.

HTH

fraser



The machine is a laptop, and there is no external keyboard in use. I will have a look at that report. My wife is the only user on that machine so she does have root rights.
I have my own spare laptop in use, with an SSD, so I am considering adding my wife as a second user. That way she can use my machine while I am sorting all this out.


Neil

--
The Mailing List for the Devon & Cornwall LUG
https://mailman.dclug.org.uk/listinfo/list
FAQ: http://www.dcglug.org.uk/listfaq

---