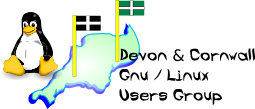 [ Date Index ] [ Thread Index ] [ <= Previous by date / thread ] [ Next by date / thread => ]
Re: [LUG] Commandeering X
Subject: Re: [LUG] Commandeering X
From: Tom <madtom1999@xxxxxxxxxxxxxx>
Date: Tue, 21 Jan 2014 14:04:38 +0000
Delivered-to: dclug@xxxxxxxxxxxxxxxxxxxxx
Dkim-signature: v=1; a=rsa-sha256; c=relaxed/relaxed; d=googlemail.com; s=20120113; h=message-id:date:from:user-agent:mime-version:to:subject:references :in-reply-to:content-type; bh=rPrclhx4nxRq0fSZiVBllCY0mXrOih0Qtd6akxCMT+M=; b=vgpVf+Xa++xtrmj03jPps1StK+OAUhsdw2IHQWKtBu3Z5Y26PO5XhHjq9DQtN7g6y2 iOcNwXru3NcNSl2A7ZfMbUDFIAJUl/aH0XtY2rD5KUJIkROMTBE+/d56VdHxAtl6dx+n nFJcUKBRVb8pvpowq8Qv8mLvZTmoTYemRwYkV8NI3xQ/31qDrnNNGfyraOJmLGGpbWMr AWH+YC+ddnGM/6dUvgUHydK0mfAeWnWMPCF6M3yQfDhf47izm/zjQpXyw5aw9Xnt7L8z 2J7eIlrZ4K86MviGKIPXexYFGTwVdqjE4ELM7mDR1afZ9sYr9peJlPLw31hf/Pmlws28 dJ/A==
---
On 21/01/14 13:51, Philip Hudson wrote:

Yep, I can manage either of those at will. In fact the ssh session I'm connecting with does have X11 forwarding enabled (for other purposes), which is why I'm careful to set DISPLAY explicitly. What I can't seem to do is replace the greeter on the target machine's own local display with my own new desktop session, short of walking over to the machine and typing on its own keyboard to login. I end up doing that, but I don't like being beaten by a problem, however easily worked around.



Perhaps I should explain why X11 forwarding over ssh is not the solution I want: I want specifically to use the target machine's display and speakers for video playback using VLC, for presentation to others under remote control.




I remember doing that years ago - I have a feeling security has got in the way and I've used vnc server/client since then.
Tom te tom te tom

-- 
The Mailing List for the Devon & Cornwall LUG
http://mailman.dclug.org.uk/listinfo/list
FAQ: http://www.dcglug.org.uk/listfaq

---